--Originally published at FLN – Education Generation

Let there be light.
Several weeks ago I came across this piece of equipment called a lightboard. This is a glass dry erase board that allows the teacher to face the camera when recording a lecture while writing notes. First created by Michael Peshkin of Northwestern University, it is a unique way to share information. Click HERE to access his opensource instructions for his lightboard.
While I don't have the thousands of dollars Northwestern has to build this, I continued my You Tube search and found some tutorials showing a lightboard could be made at home for a fraction of the cost. For instance, Jon Bergmann and Joel Speranza both have "do it yourself" home models of lightboards, which is more in line with my budget. You can see Jon's lightboard HERE and Joel's lightboard HERE.
I enlisted the help of a handy friend of mine with (read: bribed him with beer) and together we built my very own lightboard. Here are the materials we used:
(1) 25″x40″ single pane storm window in a frame – $0.00 (A neighbor is remodeling a home with new windows so this was out on the curb as garbage. Score one for the good guys.)
(5) 2×4 – 96″ – $2.50 ea. (I already had 3 of these in my garage.)
(4) 4-inch 5/16 carriage bolts – $0.56 ea.
(4) 5/16 lock washers – $0.15 ea.
(1) package 5/16 regular washers -$1.07
(1) 16.5″ LED tape light strip w/power adapter – 3300 lumens – $55.00
(1) 72″x60″ black felt sheet (as background when recording) – $5.00
(1) package EXPO Window Neon markers – $13.00
(1) six pack Two Brothers Atom Smasher beer – $11.00 (This is important for hydration and celebration of a job well done.)
(2) casters (already had)
wood screws (already had)
braid nails (already had)
miscellaneous pieces of scrap wood (already had)
T-50 staples (already had)
First thing we did was decide how high I wanted the glass to be and then cut two 2x4s as the side frame.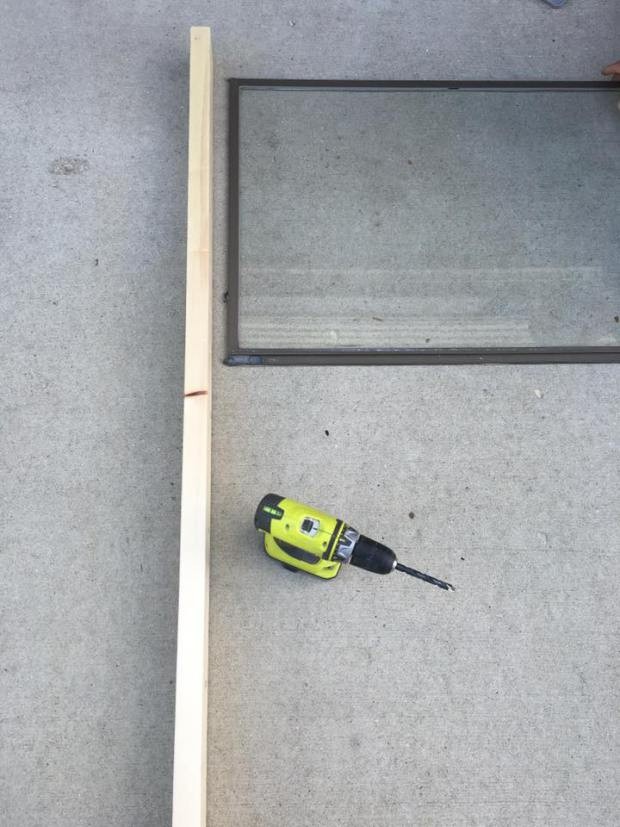 Since the glass is in encased in the frame of a storm window we drilled out four notches so it would rest flush against the supports. You can see that here:
Once the glass was secure, we cut more 2x4s to add to the top and bottom of the window and secured it with two wood screws on each side.
And once that's done you have this:
Next we did some optional asthetic work (but I think it also increased the stability of the window in the frame) and added some quarter round molding to the front of the lightboard and used wood glue and brad nails secure it. We didn't have enough to go all the way around so we left the part of the center on the bottom with out quarter round. I may find something to finish off the look later.
On the backside of the light board we used some scrap wood around the entire frame to bring the LED light strip closer to the glass and add stability.
To keep it upright we then used 2x4s as feet and attached four casters so it would be easy to move. To attach the feet we used the carriage bolts, regular washers, lock washers, and nuts. The casters were attached with more wood screws and washers.
(We later decided to attach the feet to the inside of the legs so it would take up less room on the bottom and would look more streamlined.)
Here's the progress so far:
Once that was done we installed the LED light strip. The lights attach with 3M tape but we also used a staple gun to secure the lights to the inside frame.
Low and behold, you then have something looking like this (you can see the missing piece of quarter round I wrote about earlier):
To finish it off I wanted a shelf to keep my markers, eraser, and any other small things that would be handy to have. We cut another 2×4 and added it under the window by attaching it the same way as the glass frame. We used scrap moulding on the front and back and attached it with brad nails to keep the markers from rolling off.
The finished product:
Overall, this took us about three hours to complete and it works exactly as I hoped it would. I'll paint it so it looks nice, but that would be just for me. When I record my lectures nobody will see the wooden frame. Click **HERE** to see the lightboard in action.
All told, I spent about $85 (not counting the delicious beverages) to build something that can increase the appeal of my video lectures. Yes, it's a new toy for me, but like anything else in education, it is more important that I use this tool to enhance my teaching and not have the lightboard be the focus of it. I can't wait to get started.
Until next time…